THE FIVE DYSFUNCTIONS OF A TEAM
What is 'The Five dysfunctions of a team" about?
Patrick Lencioni created a powerful framework to assess and guide teams to become high performance through his best-selling business fable 'The five dysfunctions of a team'.
This framework allows teams to identify and eliminate the behaviours and practices that we know erode and undermine team performance - the five dysfunctions.
The flip side of these five dysfunctions are the five behaviours of a Cohesive team. These are the behaviours that we know creates a productive and high functioning team.
Along with the original book, there is now a fully realised assessment process that is connected with the DiSC® suite of tools.
This assessment can be used as the basis of a tailored programme with your team to take it from ineffective and untrusting to highly effective and high performance.
The Five Behaviours of a Cohesive Team"
These five behaviours are Trust, Conflict, Commitment, Accountability and Results. It is when these results are maximised, a team can operate at its best.
This programme helps your team understand how as a team they score on these 5 components. Each participant will also understand how their own DiSC® style contributes to the team.
Based on the assessment, this framework is used to develop your team into a cohesive high performance team. Each of the 5 behaviours build on top of one another.
There is an ability to retest at a later stage to track progress towards this.
The Five behaviours of a Cohesive Team is a trademark of John Wiley & Sons, Inc.
The Assessment
The assessment has three components. Firstly, the DiSC® questions for the personality piece of the profile.
Followed by the Team Survey questions to understand what is true for this team.
And finally Team Culture questions to address broad aspects of the team culture.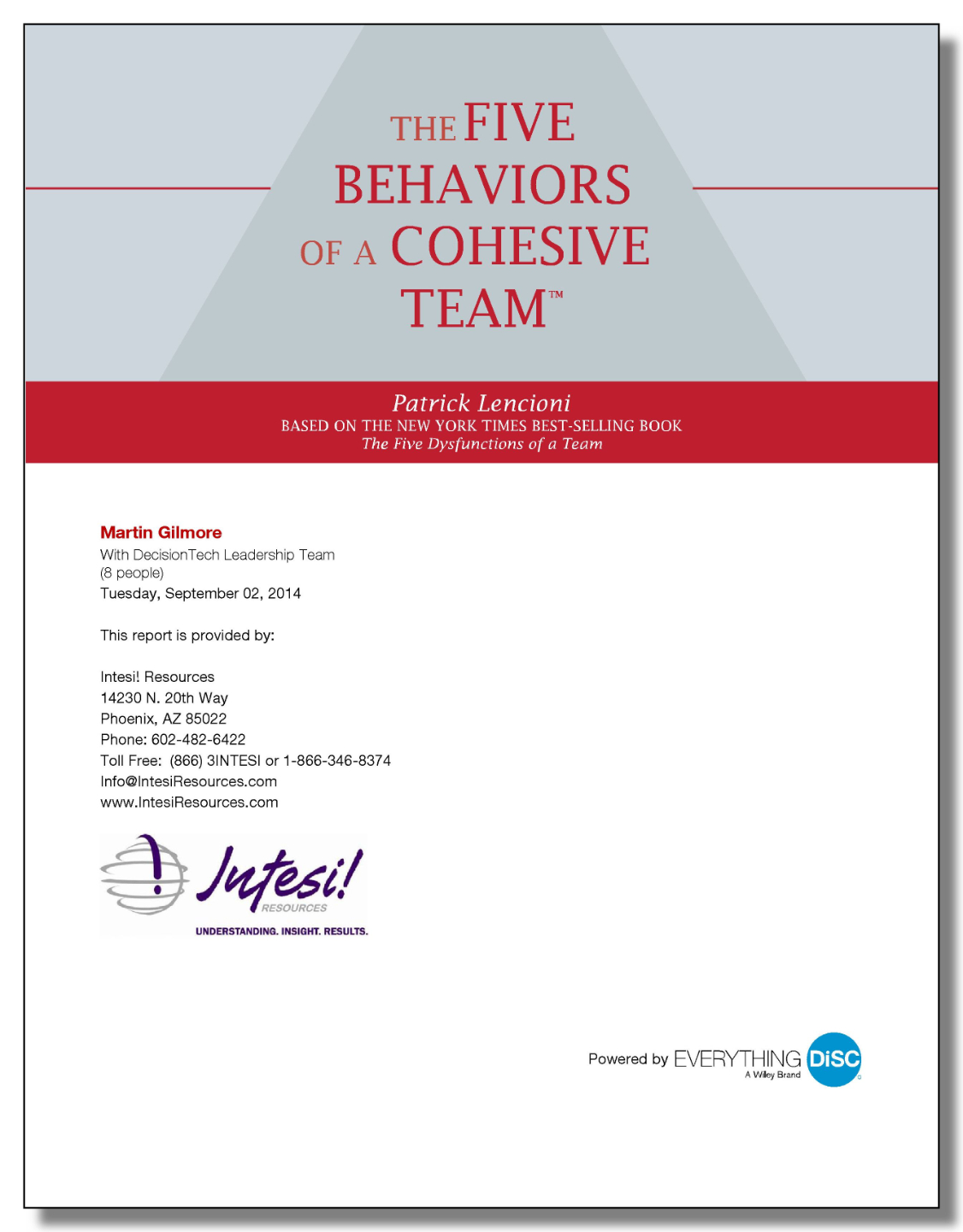 The Profile
Everybody gets a personalised profile which has both their individual results as well as the team results.
It includes context-specific feedback.
It also incudes tips and strategies for improving team effectiveness and team work and provides the basis of the design of the workshop.
The Workshop
A workshop with your team brings this to life. You get to go deeper into the current state of your team and what behaviours are either positively or negatively impacting team effectiveness and performance.
This can be done in a one-off workshop over 1-2 days or in shorter modules over a period of months.
Why this model?
For the last two decades I have worked as a HR professional (ending up in senior global roles in large multinationals) and during this time I have been accredited in nearly every workplace tool around and looked at almost every model.
Patrick Lencioni's work has been foundational in much of the work I have done so I couldn't resist getting accredited in being able to assess teams using this model and facilitate powerful sessions to create teams that are truly high performance.
What I love about this tool, is how it clearly guides you through the stages of creating a cohesive team - you can't get the results unless you start at trust.
Because you have the real assessment of your team completed by your team members, the programme is designed for what you need and is prioritised action and strategy - not something generic.
If you want to discuss how we can work together with this model, please email me at [email protected] or book a call in my calendar with clicking the button below.
Book a 30 min call now